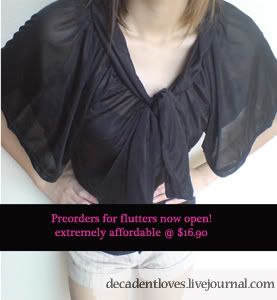 Flutters at only $16.90! extremely affordable! yay! (:
PREORDERS CLOSED.
PLEASE DO NOT TRANSFER WITHOUT LETTING US KNOW BEFOREHAND.
we don't wanna disappoint u girls. (:

Pre-orders now open!!
Will be taking orders till Tues Midnight (all payments to be made by then.)
We will collect the stocks on April 16
& items will be mailed by Friday(April 18).

we heart you all! <3
DECADENTLOVES
here it is!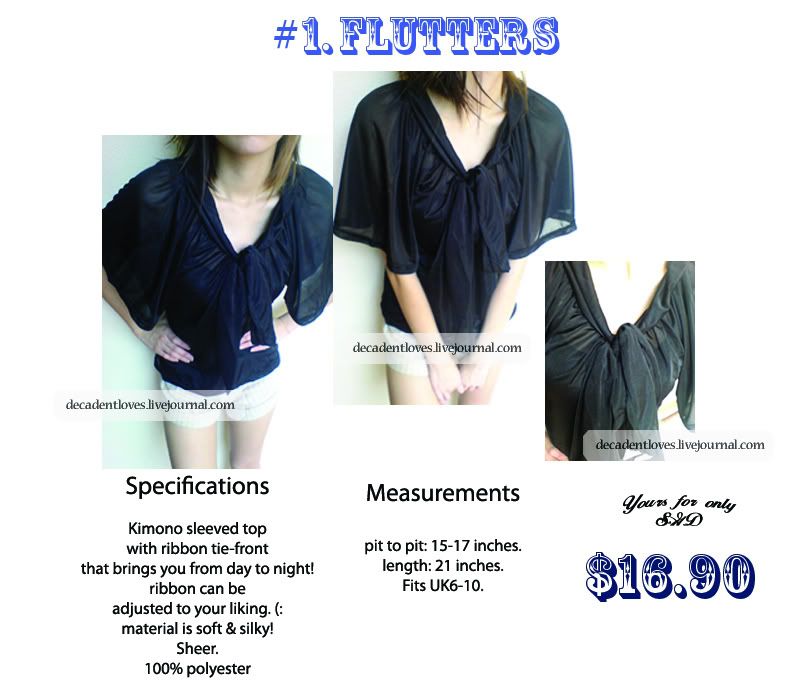 Postage:

Add $1 for normal postage; $3.24 for registered mail.

Please follow the format below:



Name/LJ:

email:

item #1: Flutters

Amount:

Postage: Normal/Registered

Address:

Payment details:

mode of payment: ibanking / ATM Transfer

From account/ib nick:

To Account: POSB Savings 187-02937-6

Date/ time:

Transaction Reference:




All comments screened.


Also,
Do check out our ongoing collection here!